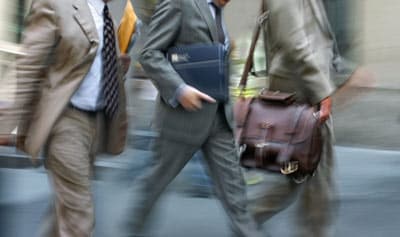 We're all busy. And staying energized when you're busy is important for making it through without sacrificing focus and performance. I'm usually super busy, going to meetings, seeing my patients, coaching my clients, making sure I get in my own exercise, and more. Here are some tips I personally use to stay energized and to rejuvenate when I'm busy. Without these steps, I doubt I'd get half as much done in the long run, and I know they go a long way toward preventing burnout.
1. Make a Flight Plan
Wake up in the morning and meditate, thinking through your day, your week, your month. Have it all organized, because when you streamline things in your mind, you save energy and use it more effectively. If a pilot's flying from Orlando to Atlanta, he doesn't just jump in the plane, flip a few switches, and take off. He checks the weather patterns, makes sure the plane is in tip-top shape, and examines the possible routes. He thinks through the process. This saves fuel and time, and it promotes safety. Get your flight plan together to stay energized through multiple tasks.
2. Plan Your Breaks
Every busy lifestyle needs moments when you stop and take a break, whether it's only five or 10 minutes or more. Schedule it in so you don't feel like your day's being interrupted. If it's planned out and part of the flow, you won't miss a beat. Without breaks, the stress just keeps building up and you'll eventually succumb to exhaustion.
3. Take Daily Technology Breaks
The devices that allow us to do more often just add to the pressure to get more done. Take a break from your computer, tablet, and phone. You might think it's impossible, but even if it's only for half an hour or an hour, take a tech breather. We're so wired to use our phone, most of us can't even wait in line without checking it. That's the world we live in, but it's good for you to step away from it and escape the nonstop bombardment sometimes too. You'll find it's very refreshing.
4. Drink Water
Staying hydrated is key to keeping up your energy levels as you go about your busy days. I love Essentia water because of its alkaline 9.5 pH. It helps you to stay light on your feet, lose weight, stay energized, and stay healthy. 
5. Take Business Vacations
Sometimes you have to get away. It's the best way to recharge. You can still work, but get away to a new place of inspiration. I'm currently in New York, and I'm working. It's still providing a much-needed breath of fresh air and opportunities to see new sights, eat new food, and go new places. But I'm taking care of business and not falling behind for my upcoming week. Sometimes, just a day or two away is all you need to stay motivated, energized, and focused, or to get that second wind we all need from time to time.
https://www.jasonmd.com/wp-content/uploads/2020/06/2014_04_business-busy.jpg
237
400
HIPAAVault Admin
/wp-content/uploads/2020/05/adfasdfasdf-300x138.png
HIPAAVault Admin
2020-06-08 23:49:49
2020-06-08 23:49:49
5 Tips for Staying Energized When You're Busy